Maximize Your Carrier Heating and Air Conditioning System's Energy Efficiency and Performance with Professional & Affordable Air Duct Cleaning, Installation, and Repair
Carrier's heating and air conditioning systems are renowned for providing homes and businesses with exceptional indoor comfort and energy efficiency. However, if your ductwork is dirty, leaky, and/or poorly installed, you won't enjoy the full benefits of your Carrier equipment. According to EPA's ENERGY STAR website, the average house loses about 20-30% of its heated or cooled air through holes, leaks, and poorly connected ducts, which in turn results in higher utility bills. Additionally, leaky ducts allow dust, pollen, allergens, mold, bacteria, viruses, and other contaminants to bypass any filtration system you may have installed, compromising the quality of your indoor air.
Zodiac Heating & Air Conditioning, Inc.: Providing San Fernando Valley's Homes & Businesses with Cost-Effective, Customized Solutions for Cleaner, Fresher & Healthier Indoor Air
Zodiac Heating and Air Conditioning, Inc. has experienced heating and air conditioning technicians with years of experience. Our HVAC installation and service technicians receive continuous training from Carrier and are all certified by NATE (North American Technician Excellence). Because Zodiac is a qualified Carrier Healthy Air Expert, our technicians also receive specialized training on how to assess indoor air quality problems and determine the best solutions for your needs. With their expertise, you'll improve the quality of the air in your home or business, save money on your energy bills, and enjoy greater indoor comfort.
Rotobrush Air Duct Cleaning
Unless your air ducts are well-maintained, they will eventually attract and trap a wide variety of contaminants throughout the system. These contaminants can include dirt, dust, hair, dust mites, mold, pollen, pet dander, fiberglass insulation, and more. At Zodiac Heating & Air Conditioning, we use the Rotobrush cleaning system to thoroughly clean all types of ductwork. With a Rotobrush machine, which consists of a high-powered vacuum with a rotating brush at its end, we are able to reach all parts of your ductwork, including those parts that are hard to reach or hidden. This machine gently yet effectively loosens and detaches anything that might be inside your ducts. Professional air duct cleaning is recommended about once a year -- depending on how often you use your HVAC system and how dusty and windy your area is.
Contact San Fernando Valley's Carrier Healthy Air Experts Today for Expert, Comprehensive Ductwork Services in Van Nuys, Calabasas, Valencia, Simi Valley, Santa Clarita, Burbank, Glendale, or Other Nearby City
With more than 37 years of experience serving the diverse heating and air conditioning needs of homes and businesses throughout the San Fernando Valley, including Van Nuys, Calabasas, Valencia, Simi Valley, Santa Clarita, Burbank, and Glendale, Zodiac Heating and Air Conditioning is exceptionally well-qualified to meet all of your ductwork and indoor air quality needs. In addition to ductwork cleaning, we also repair, replace, and install ductwork. We can also sell, install, and service Carrier air purification and ventilation systems (see below for available options). We are a licensed HVAC contractor and offer competitive pricing and written warranties with all of our work.
Infinity Series Air Purifier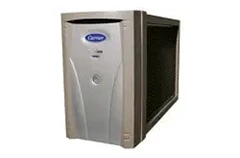 For superior indoor air quality, choose the award-winning Infinity Series air purifier, which "Captures and Kills" bacteria, viruses, and other airborne pathogens
MERV 15 filtration and efficiency
Kills up to 99% of trapped mold, viruses and bacteria
Repurifies the home's indoor air as many as 8 times per hour
10-year parts limited warranty
Performance Series Air Purifier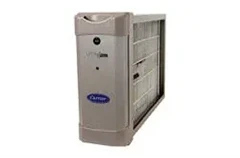 This compact system uses Carrier's patented Captures and Kills technology to remove common pathogens and other pollutants from inside the home for healthier, cleaner air.
MERV 13 filtration and efficiency
Kills 96% of trapped bacteria and viruses
Repurifies the home's indoor air as many as 8 times per hour
10-year parts limited warranty
Comfort Series EZ Flex Cabinet Air Filter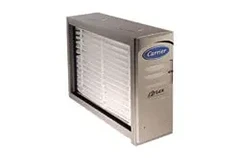 The EZ Flex cabinet air filter helps homeowners get cleaner air at an affordable price.
MERV 10 filtration and efficiency
Removes up to 65% of airborne particles
Long-lasting filters that are easy to replace
10-year parts limited warranty